July 26th, 2006 posted by Nick
Posted by Stateside Moderator Esq.
Wednesday, July 26th, 2006: We have a new update!
It's now been over 48 hours since any individual from the teams have written any communiques back to this web page or the super secret e-mail address. It would be easy to blame the absinthe, and decide that our friends are just taking a while to recover…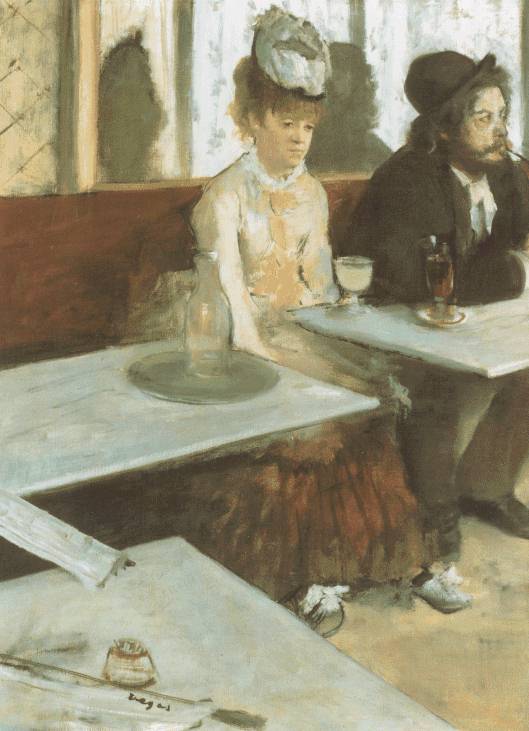 Degas' "L'Absinthe, 1876 and it still holds up today"
But since we last heard from them on July24th, and they were off to "Krakow or beyond!" They're probably just surfing that heat wave into Ukraine. If things had gone wrong they'd probably have oodles of time to stop and write and send a little note about how things were going. That is, unless things went really wrong… Hmmm this might be worth looking into:
To answer the question we've turned to the definitive expert on all topics, the interweb. Has anything newsworthy flummoxed our teams of lazy non-summiters?
Google news only returned one story with information dated after the team's last post.
found here:
"Broke down in the middle of Latvia with a suspect gearbox leak at midnight. Excellent. Who needs oil when you've got hopes and dreams?" wrote team Mongol Mary on July 25

"Got asked for $2k to enter Ukraine-so have taken all the stickers off the car and gonna try a different border," wrote team Mongol Mocha. Its car is a 1984 Nissan Micra. Like most teams, Mongol Mocha still needs donations.
Clearly, border crossings–like their collie brethren–can be a real pain sometimes. For what it's worth this picture show's one of the day trip possibilities out of Krakow.

It is comforting knowing that there are local backup transportation options available to the teams.
Another source for recent and nearly relevant mongol rally updates is the organizing organization's team text message page used by several of the Euro teams found here.
2006-07-26 13:36:39
Team: MongolMary

Me and mary versus a metal pole, metal pole won. Oops.

2006-07-26 13:42:09
Team: Min Mini Adventure (The A Team)

The emission test on the side of the road just outside kiev was eventfull the car failed but with a bit of help from a few dead presidents we got through it

2006-07-26 15:22:27
Team: pandarama.co.uk

Broke trailer windscreen, fixed it with tape and bed roll. Onward to Dover
No sign of our favorite teams in any of the write ups. A good sign if ever there was one, anything truly bad would be bandied about for sure. (unless no one knows yet..-ed. No one asked you! This is supposed to be a reassuring summary paragraph, not a fear mongoring paranoia-fest!)
Anyways, we can probably rest easy for now knowing that the Tigglywinkians and L'il Larrys are fine, and enjoying getting away from it all. If they can't find it in themselves to write every once in a while, it is most likley because of some strange issue with that fandangled phone-email higgy jiggy. (and not because they're stranded in a roadside ditch reeking of overripe absinthe? -ed. Actually, knowing them, let's not rule anything out.)