---
Latest Project: A Poor Man's Winter
---
Welcome to the bad colonies' website.This site is dedicated to the exploits of those individuals that find humor and adventure on the open road. You'll find detailed information on the 2006 Mongol Rally and extensive posts from our adventures. We are already planning the next catastrophe, which will be glorious. In the mean time we will continue to update this site with different gnarly tales of gnarly stuff.
What is the bad colonies motoring coooperative?
Way back in 2005, Dominic and I decided to participate in the 2006 Mongol Rally. We created the bad colonies motoring cooperative as catch all organization for like minded idiots that want to participate in a whole bunch of really stupid activities involving cars in the name of charity and free poorly written online literature (i.e. run on sentences). Keep your ears open cause the BCMC has just started to roll.
Life is like a Ford Fiesta on the Mongol Rally, once started it will stall if left to idle. - Seth
---
contributing writers
we would love to have more entries,if you would like to contribute, please contact me at nathaniel@badcolonies.org
---
The Official Minstrel of the BCMC - Sven Curth
Sven is good people and makes better than average music that does not suck. Want proof, the team consistently played his solo release "Me and Jim" while driving on the Mongol Rally. In fact, the convoy has since requested copies to play on the radio in London. The real question here is why haven't you bought your copy yet. Available here.
Stop by www.hot-fat.com, say hi and buy a cd or two.
---
July 29th, 2006 posted by Administrator

July 28th, 2006 posted by Administrator

July 28th, 2006 posted by Administrator
The convoy pulled out of Kiev around 1 pm or so. We are currently on our way to the Russian border in the southeast corner of the Ukraine. We are keeping with the two other British teams, The Last and The Ludicrous and the lads with the Fiat. Other teams have had a very difficult time with the corrupt police and we are hoping that we are a safer with numbers.
This whole fiasco with the car registration has been stressful and still is not completely solved. We are going to give it a try with our current paperwork plus a scanned letter. In addition, the British embassy is trying to lend a helping hand.
So far today driving might be described as dangerous or insane depending upon your point of view. Along the main road from Kiev to Charkov the road drops to two lanes. There are a lot of slow moving vehicles and the Ukrainians cannot be bothered. They will pass a any moment and completely disregard any oncoming vehicles. As has been our general rule for Eastern Europe, we have chose the join the fun and not resist. Its quite a frightening experience to just make it into your lane with one of those big ass Euro trucks coming straight for you.
The cars are not in the best of shape, the Festival is idling like crap and the Seat has a metallic sound coming from the driver side rear tire. Rally on.
——————————
Sent via PocketMail
Email Anywhere
www.pocketmail.com
July 27th, 2006 posted by Vaughn
Just got a call from Patrick on the cell that I just acquired today (honestly, ignoring exchange rates is the best way to pretend that you're not spending that much money…because that's exactly what I'm doing). He is at the Kiev Airport and is being picked up right now by Dom and Seth. Hopefully, the woman that I talked to at the DVLA in the UK understood what I was asking and sent us some official-looking documents that will help us cross the border. If those don't come, we have two options: wait for the documents to be sent to our UK address then have them posted here and then drive to the Russian border, or go for the border and hope we can get through as easily as we did at the second Ukrainian one. I'd rather hope than wait.
We have been having a damn good time with the fellows we met from the UK: James and Neil of "The Last and the Ludicrous" and Andy and James of … um … LingsCars.com (their major sponsor, though their official team name has slipped my mind). If there's one thing we've all learned, it's that Kiev is mediocre, Ukraine is a dump, the girls are pretty nonetheless, and we would never mind if we never came back. Right now BCMC is hoping that we get something to help us cross the border, otherwise we have to play catchup to the other two teams. We have all agreed, as well, that crossing Kazakhstan in a convoy of four cars is the best idea, protecting us from serious breakdown issues and bandits. Yes, there is a good chance that a one to two car convoy might get harassed; three to four much less so.
Currently in limbo, but a limbo that allows me to find internet access and eat decent food. I still haven't had this famous dish that seems to elude me no matter what. I'll figure it out later. Right now, I'd rather get on the road, hit Russia in a convoy and has some fun at the borders. That's what it's all about anyway. More to come no doubt.
July 27th, 2006 posted by nathaniel
I dropped Jen off at the airport in Kiev today and she successfully purchased a ticket to Moscow. She is currently in route with a day lay-over in Stockholm. In typical rally fashion, we over slept, got lost, and nearly ran out of gas on the way to the airport. As can be imagined we were both saddened by her departure. She honestly wanted to finish the rally, which is a real testament to her will and resolve considering the troubles we have had. She definitely understands, appreciates, and enjoys what this rally is all about and I cannot say that for many. I cannot express enough how much it meant to have her along to experience this.
Patrick is somewhere in route to Kiev, I got an email to him very last minute instructing him to change his final destination. Hopefully he arrives today and we get our paperwork tomorrow. Then its on to Ruskie land.
July 27th, 2006 posted by nathaniel
Hi all, it has been awhile, evidently driving around the clock makes copious posts difficult to execute. Hopefully with our stop in Kiev, I will be able to get a cell phone and try to get the pocketmail posting to work a bit better. I have not had a chance to post at all, even though I am carrying a gang of posts in the ole pocketmail. Rather than bore you with all the details I am going to stick to the BCMC tradition and give you a bunch of Garblely stuff, mainly simpets from my TPS Reports, filed late as usual. This trip has been amazing and indescribable, but here's some insight.
date: 7.24.06
current location: Really close to the Polish border outside of Ostrava
mileage: 74683 on the Fiesta Odometer
price of gas: 29.90 CR / litre
temperature: 84.5 F
comments: We have completed out first jaunt into the countryside of the Eastern Bloc. A good portion of the drive from Prague to the border was on two lane roads through small villages. Though slow going, it was nice to see some of the "off the beaten path" sort of places and gave a good preview of the next couple of weeks. I saw a couple cutting and gathering hay by hand and within a mile some kids playing in one of those cheesy inflate-a-pools that you can buy at Walsmart. Isn't Globlization great?
date: 7.25.06
current location: Gas Station parking lot Rednecknow, Poland
mileage: 74,864 on the Fiesta Odometer
price of gas: 4.39 polskis / litre
temperature: 79 F
comments: We drove from 1 pm to 2 am last night, nearly making it across Poland. Alas the need to sleep overcame our ability to proceed. We found a seedy gas station outside of Rednecknow and bedded the horses down for the night.
Poland is doing some roadwork, thanks Euro Union. You can imagine. At one point around 12 am, I was driving the Festival as we entered said country wide construction zone. They had the asphalt torn up such that a 4 inch jagged lip was on my left. Since we have stubborn British right hand drive cars, I can't see squat on the left side of the road (also makes overtaking a challenge, especially when navigator / wife is snoring away). Unbeknownst to me, the Polish road crew cannot cut a straight line to save their lives. The cut payment slowly started to shrink the available driving width until the tire violently bounced off of the it. And again. Not a stir from the sleeping Jen. Luckily the tire withstood, but now proudly displays its first of many scars from the Mongol Rally.
Chaos should be defined as a bus load of Italian tourists crammed into a small gas station run by a couple of Polish guys. The pinnacle moment being an interchange in severely broken English between the Polish attendent and classicly old agitated Italian guy over a phone card. The exchange resulted in a forceful taking of the card and some wadded money being thrown back.
date: 7.26.06
current location: Rivno, Ukraine
mileage: 75166 on the Fiesta Odometer
price of gas:
temperature: 88.7 F
comments: So we spent the day at the border, which was lovely. When you roll up on the border, your first thoughts are wow this is going to suck and damn is this place disgusting. Its wall to wall eastern Europeans sitting on their Ladas with an ungodly amount of insulation or kitchen appliances strapped to the roof drinking beer at 10 am. There were fires smoldering on the road sides and trash strewn everywhere. We moved through the line much faster than expected only to be denied at the final step of the process by a very anal and particuliar guy. I tried every wiesel move I know, which is significant I may add. In the end we were denied and turned around. Unfortunately, we had been allowed into the country, it was our cars that failed to make it. This meant sitting for 2 1/2 hours in the exit line and then another 2 hours in the entry lane for Poland. Of course the people watching was epic and it gave me a chance to work on my tan. The best was watching the people that had crossed the border on foot trying to hide packs of cigarettes before returning to their respective countries. My personal favorites were guy duct taping cigarettes to his girlfriend's stomach while she stuffed her bra and really old lady stuffing packs down her underwear. Classic.
When we finally made it across the border on our third attempt (of course attempt two was just us bombing past the border patrol in some farmer's field and being asked politely to leave), it was readily apparent that things had changed. It was like stepping back a bit in time. We departed the gas station at 12 am in a consistently dreadful fog in a convoy of 4 vehicles, including The Lost and The Ludicrious' Mini Scamp. It was the most nerve wracking drive I have ever been part of. The roads were vicious, slamming the cars violently and keeping speeds to a minimum. The towns were deserted and dark except for the occasional person slipping into the darkness as we approached. I felt like I was in some demented version of a Humvee convoy in a war zone.
Also of note, yesterday while driving to Kiev three armed army looking guys dashed across the road in front of Dominic toting some pretty serious firepower. They jumped in the ditch and leaned over. I was asleep at the time, but Jen said she was just waiting to get shot at.
July 26th, 2006 posted by DMF
after spending around 8 hours at one ukraine border only to be denied entry by customs for lack of proper paperwork for our vehicles, we returned to poland yesterday evening. while in line to re-enter poland we ran across another team, the last and the ludicrous, who were also denied. the brits must have been more pathetic in their pleas as they were sent packing to poland directly to the front of the line and with a free bottle of vodka condolences from the ukraine customs dept.
we schemed for a bit, had something to eat and tried a second border crossing. a much smaller point of entry, it appeared on one map and not on another. we nearly plowed through through the barrier in the the half-light at high speed. needless to say, they didn't let us out of poland there.
more scheming led to a grab bag of "official looking" paperwork on our part hoping to dazzle and confuse at a third point of entry in the wee hours of the night. anything with some sort of stamp and/or signature went into the pile regardless of what it actually proved. we ended up running into several other teams trying to cross this time. having turned away several persistent rallyers throughout the day, but faced with a half dozen cars in line together, none willing to be turned away, the ukraine eventually relented.
since the border we've been caravaning with two other cars. western ukraine in the middle of the night, in the fog, with rumors of police harassment from other successful teams was a very surreal experience. after managing only 30 kilometers in about 2 hours on the worst roads any of us have driven we called it quits for the night in L'Viv in a gas station parking lot. we woke 4 hours later when the attendant conveyed it was time to leave.
we've just arrived in Kiev and plan to hit the official checkpoint (bar) shortly.
at the moment our vehicle documents don't quite fit with ukraine law. we haven't been pulled of\ver yet, but many other teams have. jen is trying to fly out tomorrow returning to the States and we'll meet patrick here in Kiev. which gives us a little time to call up the UK equivalent of the DMV and lay on a thick sob story to see if we can get what we need. we've been told repeatedly that the current paperwork will give us the same problems with Russian and former Soviet authorities.
assuredly more tomorrow. at the moment it's time to relax. and hear stories from other rallyers. ran into one team already from Scotland that ran the Ukraine border after being denied. just shut their lights off and drove through when they were suppsed to be returning to Poland.
dominic
ps. Seat electrical demons have been exorcised. my mistake to reconnect a ground wire - thanks to team nervous breakdown for their help. they did the same thing a few weeks ago and knew exactly what the problem was. think my days in the car stereo business are over with a 50% success rate. suspect Seat engine stalling due to low idle - happens most often at night when when lights are drawing things down. don't be surprised if the Seat is referred to as Tyrone in future posts. fiesta running like a champ. did rotate two tires in prague. heavy wear on left front was giving a bit of a wobble at speed.
July 26th, 2006 posted by Nick
Posted by Stateside Moderator Esq.
Wednesday, July 26th, 2006: We have a new update!
It's now been over 48 hours since any individual from the teams have written any communiques back to this web page or the super secret e-mail address. It would be easy to blame the absinthe, and decide that our friends are just taking a while to recover…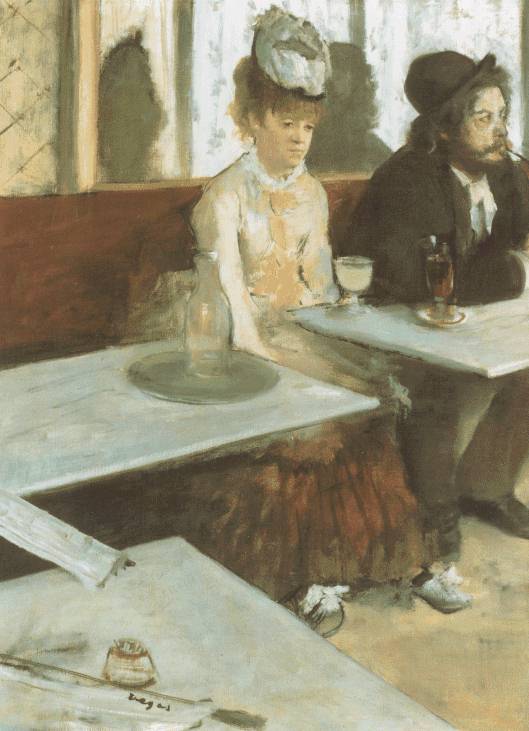 Degas' "L'Absinthe, 1876 and it still holds up today"
But since we last heard from them on July24th, and they were off to "Krakow or beyond!" They're probably just surfing that heat wave into Ukraine. If things had gone wrong they'd probably have oodles of time to stop and write and send a little note about how things were going. That is, unless things went really wrong… Hmmm this might be worth looking into:
To answer the question we've turned to the definitive expert on all topics, the interweb. Has anything newsworthy flummoxed our teams of lazy non-summiters?
Google news only returned one story with information dated after the team's last post.
found here:
"Broke down in the middle of Latvia with a suspect gearbox leak at midnight. Excellent. Who needs oil when you've got hopes and dreams?" wrote team Mongol Mary on July 25

"Got asked for $2k to enter Ukraine-so have taken all the stickers off the car and gonna try a different border," wrote team Mongol Mocha. Its car is a 1984 Nissan Micra. Like most teams, Mongol Mocha still needs donations.
Clearly, border crossings–like their collie brethren–can be a real pain sometimes. For what it's worth this picture show's one of the day trip possibilities out of Krakow.

It is comforting knowing that there are local backup transportation options available to the teams.
Another source for recent and nearly relevant mongol rally updates is the organizing organization's team text message page used by several of the Euro teams found here.
2006-07-26 13:36:39
Team: MongolMary

Me and mary versus a metal pole, metal pole won. Oops.

2006-07-26 13:42:09
Team: Min Mini Adventure (The A Team)

The emission test on the side of the road just outside kiev was eventfull the car failed but with a bit of help from a few dead presidents we got through it

2006-07-26 15:22:27
Team: pandarama.co.uk

Broke trailer windscreen, fixed it with tape and bed roll. Onward to Dover
No sign of our favorite teams in any of the write ups. A good sign if ever there was one, anything truly bad would be bandied about for sure. (unless no one knows yet..-ed. No one asked you! This is supposed to be a reassuring summary paragraph, not a fear mongoring paranoia-fest!)
Anyways, we can probably rest easy for now knowing that the Tigglywinkians and L'il Larrys are fine, and enjoying getting away from it all. If they can't find it in themselves to write every once in a while, it is most likley because of some strange issue with that fandangled phone-email higgy jiggy. (and not because they're stranded in a roadside ditch reeking of overripe absinthe? -ed. Actually, knowing them, let's not rule anything out.)
July 24th, 2006 posted by Nick
If anachronistic anecdotes don't make you queasy, enjoy!
*******************************************************
TPS Report: England - Interviews and Wiffle Ball
*******************************************************
date:07.21.06
current location: Settle Down Inn, London, UK
mileage:0
price of gas: 97P per litre ($7.60 per gallon)
temperature: Jen says it susposed to be better than yesterday, the man on the BBC says 31 C in the big city.
comments:
Let's just say that its hot here, temperature wise and even more so politically. Jen and I walked by two fairly aggressive protests, one pro Palestine and one pro Israel. The bobbies were well represented at both which was appropriate considering the back and forth with the spectators was fairly heated. A few blocks up the road, we encountered another raised voice conversation taking place around a news stand. Honestly, this is as tense as I have seen it in Europe, its a tension you can actually feel. As my good friend Ernie likes to quote from Lily Tomlin, "Things are going to get a lot worse before they get worse." More to come, I am sure.

Vaughn and Dominic rolled up on the hotel around 8 pm or so and all bowed in awe. I was so overcome with joy that I may have started crying, its tough to tell. Its really difficult to convene in words how crap these cars are. The SEAT made me breakdown in a massive fit of laughter. I mean, one person could pick up the engine in their hands. The lads found out the SEAT is actually 843 CC. As the Brits would say that's bloody small.

Being proper rally participants, we conducted our first meeting on foreign soil at the pub. Real monumental stuff was worked, yo know wiffle ball rules and the ins and outs of the video diary portion
of the trip. Then we drank the beer, then we joined a flock of Aussie ladies and headed to the "club". I feel safe saying that some dancing occured. Upon our triumphant return to the hotel, Jen and I went on a mission to locate mayonaise for our room service. There was one weird dude from Cairo occupying the lobby. There was a lot of babbling from both sides of the conversation. He was quite the name dropper, you know the type, Bin Laden this, Bin Laden that.

Its morning, the team is packed into our shoebox in eager anticipation of our interview for Mongol Rally "The Movie".

Here's some notes from the morning.
Its been said that the rally is "very organized, very safe", I have my doubts. Vaughn and Dom seemed to have learned quite a bit up North, great stuff like cake apparently is good for flesh wounds and "leave no trace" which in rally terms means firebomb your car if you must leave it behind. Jen's still reading the book of liar. Just capital.

The rally was hot, not hot like Paris would but hot like sweltering. Our hotel room is small and it gets exponentially smaller when you squeeze six people with a camera and a mic boom in. We had to turn off the fans for the interview which created a sauna like experience. There were some memorable moments from the interview. Jen got to explain the poop shovel, Vaughn had some really classic lines, and I sounded like an idiot. You will have to wait for movie to learn the rest.
Later in the day, it was concluded that we should make coffee. By concluded I mean I thought was a bright idea and no one complain loud enough to stop me. We are not just talking the ole coffe maker, we are talking combustible gases, lighters, minor explosions and singed arms. Yup camping on Oxford Street.

So I am sitting at the bar right now in the midst of the send off party. The reality of this whole deal is starting to set in. We are awaiting the MOT for the fiesta, basically this means we do not have an inspection for the car and this may affect our entry.

*******************************************************
Seth's bag of poo
*******************************************************
Subject: Seth's bag of poo
From my bag -
1 broken camera
1 non functioning camp stove
1 sporadic minidisc player
1 stolen lighter
1 broken coffee mug
and we haven't even hit the road.

*******************************************************
Hurry up and wait
*******************************************************
We are sitting in Hyde Park waiting for the Mongolian Car passport stamp. There are some dark clouds on the horizons but spirits are high with the many participants. We are definitely lagging behind in the sponsor department. Just about every team has their car covered with stickers from their various sponsors. We started scribbling with paint sticks to try to fit in. We definitely have some of the worse cars here. That's reassuring. The MOT arrived for the fiesta and the Mongolian entry deposit is settled. We continue to wait, I will write again once we hit the ferry. Nathaniel on location in London.
July 24th, 2006 posted by DMF
The car's possessed I say. Lost the low speed wipers somewhere in London. Couldn't turn the wipers off at all by Luxembourg. Right front headlight isn't working. Rear turn signals stopped blinking in Germany. Just solid light. And a few hours out of Prague the Marbella picked up a new annoying trait.
After driving at highway speed for awhile, the car dies when decelerating for exit ramps. Seems to happen when both clutch and brake are depressed while still at speed. Hoping to find a Haynes manual from one of the other teams before everyone goes thier separate ways. See if we can't scribble down a few wiring diagrams for troubleshooting.
But other than that she drives great. Seems there may be a reason I fried the car stereo a few days ago.
And for those interested, we may be the only American team that made it to Prague. Team Newyorkistan burned up their clutch before getting out of London. Haven't seen either of the Seattle teams. And the guys from MIT went a different route.
Rumor that Team Aspiritus (Pix and Miles) had a crankshaft problem in London and are currently broken down again in Brussels. Also rumored that off 200 rally spots, about 150-170 turned up at Hyde Park for the launch and about 70 made it to Prague last night. Not sure how reliable that information is though.
We're off to Krakow or beyond.
dominic
ps. It's so hot, Absinthe was a bad choice.
July 24th, 2006 posted by Vaughn
It seems the world is imperfect. I wish someone would have told me about it before I started getting into the thick of things.
As you can see below, our last PocketMail update failed misreably somehow. Perhaps it was the fact that I was trying to practice my czech, but it was more likely something in the connection that just got mangled by the interweb fairies, and not the nice ones, but the ones that despise humans…apparently. So here's a copy of the entry, blockquoted for your easily separated reading pleasure:
It was only moments ago that we pulled into Dover with a much anticipated view of the Channel. I'm currently sitting in the car as Seth tries to direct Jen & Dom to our hastly found parking space; the plan is to grab a bite before we jump on the ferry.

Earlier today the anticipation of the rally was very palpable. Amidst clearing out the hotel room, paying the £3000 in deposits, and getting setup by a relatively disorganized volunteer squad (please know that I am judging by my personal standards, which are quite high and sometimes unobtainable), we got out of the damn dirty auto trap known as Central London. I'm hoping the next many hours are quick and hardly congested, though they shouldn't be, seeing as we plan to drive straight through to Prague.

I think everyone has become located again. Time for dinner.
So we made it to Prague on Sunday night after driving straight through France, Belgium, Lux., and Germany. Our course started with horrible traffic and construction in London, where I felt my blood pressure rise with each caught stoplight and too-soon braking incident. It took us a few hours to make it to Dover, but we made our ferry and relaxed for the trip across the channel. We found a good number of ralliers on the boat and asked some advice on our route to Prague, hence the countries crossed above.
Driving through Europe in the middle of the night is pretty uneventful. Petrol stations scattered across the motorways are even more so, though I did get a chance to practice my German somewhere west of Mannheim. All I did was ask for the WC, but it was an accomplishment I was proud of, esp. after driving through more countries than I've ever seen in my life. Our journey also brought us together with half a dozen other teams at the Czech Republic border. We ran into most of them again in the underground garage in Prague (where a number of teams spent the night whether to save money or for lack of hostel reservations) or at Cafe Dinitz, the official location of the rally party.
The atmosphere is energetic, though somewhat tired. People are excited to be crossing the world, to be exploring the variety of places to be seen; it's just that driving straight through to Prague took a toll on most teams, with fits of sleep coming between driving shifts. And with gas station snacks and sandwiches (in our case) filling the tanks, it's not hard to imagine that we're all a little worse off for the nutrition. But the adrenaline, that wonderful biological gift, has pushed us past our desires to stop off and sleep and has saved us for the first day. Whether that will be the case for long is hard to tell, but at least we are past the obligatory drive=through and can now rest and camp as necessary or needed. Then again, there are so many things that could come up between then and now, we shouldn't get too complacent.
We'll keep trekking, so keep reading.
July 22nd, 2006 posted by Administrator
Seth was here, ha ha ha
---
coming soon...
summer 2008
---
links
---