RD_Wolves's blog
---
From the Hexham Courant: www.hexhamcourant.co.uk
INDIAN JOURNEY FOR FRESH WATER
Published at 09:10, Monday, 20 September 2010
ONE of the first warnings given by tourist guides to visitors to many Eastern countries is – don't ride in the tuk-tuks!
These are the wildly unstable auto rickshaw taxis which buzz around cities of India and beyond like angry wasps.
But the inherent dangers have failed to dissuade Corbridge's Jhared Bouri and three of his mates from driving one of the contraptions 5,000km down the length of the sub-continent.
Along with former school friends from Newcastle's Royal Grammar School James Rickwood-Dodsworth, Andrew Wallace and Hugh Morgan, Jared will be setting off from Jaisalmer in the far North West of India hoping to reach Cochin in the far South around two weeks and 5000km later.
They will be aboard a 150cc, 7hp auto-rickshaw, and will have to battle through jungle, barren plains and mountain ranges, navigate through some of the world's largest and most congested cities and of course try to avoid an accident on the world's most dangerous road network.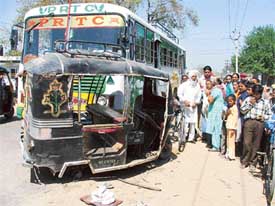 Needless to say, it's all being done in the name of charity.
They are competing in the Rickshaw Run, a charity rally run by The Adventurists (www.rickshawrun.com) in aid of Frank Water Projects.
Each team must raise at least £1,000 to guarantee their entry on the rally, and Jared and his friends are hoping to raise at least double that.
All funds raised will be donated to FRANK – no other party takes a cut.
FRANK is a small charity that funds sustainable, safe, clean drinking water projects in India by installing village filtration facilities.
Since 2005 FRANK has funded the installation of over 30 projects in Andhra Pradesh, India benefiting over 210,000 people.
James, who lives in Ryton, said: "We have been writing to local companies and charities for sponsorship as well as badgering friends and acquaintances.
"However, we would also love other people to sponsor us."
For further information, or to support the boys, view their website at www.justgiving.com/2011rickshawrun
They are also keeping a blog at www.badcolonies.org
In 2006, Andrew Wallace and James Rickwood-Dodsworth drove 8000 miles from London to Mongolia, across five mountain ranges and two deserts, in a less than reliable Fiat Cinquecento. By doing so, they raised over £2000 for the Christina Noble Children's Foundation and Send a Cow.
4 years later and they are back!!! This time competing in the Rickshaw Run Winter 2011. A 5000km trek the length of India from Jaisalmer to Cochin.....
..... In a 150cc RICKSHAW!!!
The trip should last about two weeks as we battle through some of the most difficult terrain Asia has to offer, as well as the inevitable breakdowns and bouts of illness. There are no support vehicles. The Rickshaw Run is therefore the ultimate challenge of man and unsuitably unstable machine Rickshaw Run Website
We are aiming to raise over £2000 for Frank Water Projects. FRANK is a small charity that funds sustainable, safe, clean drinking water projects in India by installing village filtration facilities. Projects are funded by FRANK but community owned and run.
Since 2005 FRANK has funded the installation of over 30 projects in Andhra Pradesh, India benefiting over 210,000 people. FRANK website
We are looking for donations of any amount to help us to raise as much money as possible. ALL monies will be donated to Frank Water Projects. Donations can be made via our website Just Giving 2011 Rickshaw Run
PLEASE HELP US TO PROVIDE THE PEOPLE OF INDIA WITH THE BASIC HUMAN RIGHT OF CLEAN, SAFE, DRINKING WATER
Having spent such a fantastic time in Bishkek, Kyrgyzstan during the Mongol Rally, it is disappointing to read about the escalation of the ethnic violence that has been simmering for years.
A British Motoring magazine has been asking its writers to nominate a car that defines the last decade. Names banded about include: the new Mini, Rolls Royce Phantom, Audi R8 and even the Ford Fiesta MK VI.
I thought the Nissan GT-R could be in with a shout - the ultimate expression of Japanese dominance for the fraction of a price of a Porsche. Technology that seemingly overcomes the Laws of Physics...
Or how about the Ford F-150 or any number of shoddy GM products? Toyota Prius? Cadillac Escalade?
The Lamborghini Gallardo? Not even the Italians can get away with making unreliable cars nowadays.
And for the coming decade? Anything by Tata, Geely, Roewe, SAC.
Your thoughts please.
see more Epic Fails
from http://failblog.org
It's happening! It's going to occur! We're all going to do it!
The dates havn't been released yet, but judging by previous years, plan for December 2010/January 2011.
http://rickshawrun.theadventurists.com
Some vids to whet your appetite:
So sell your kidney, brush up on your Hindi and paint on a bindi.
Badcolonies reunited!
I have long been intereseted in Iran and the Middle East. In terms of historical and cultural significance Persia is often ignorantly overlooked compared to more accessible nations such as Egypt. Iran's geopolitical stance dominates our limited understanding, not helped by Western media casting the Middle East as either a Billionaire's playground or stagnant backwater where terrorism flourishes. A curious juxtaposition.
The elections and subsequent demonstrations in Iran are a reminder that real people live in the Middle East - not just stereotypes. They care about how they are governed and how the world perceives them.
This travel article originally published in the Times gives a flavour of what Iran is really like:
"I'd never have guessed that my first time inside a synagogue would be in Tehran, but Iran is full of surprises. It has a fundamentalist leadership that many in the West believe to be as nutty as a box of pistachios. But it also has a population of 65 million, most born after the 1979 Islamic Revolution (which culminated in the return from exile of Ayatollah Khomeini 30 years ago this month), and far removed from the dour and menacing stereotype often portrayed on the 10 o'clock news. The ordinary Iranian people are by far the friendliest and most welcoming I've met in more than 20 years of travelling."
'The Road to Oxiana' by Robert Byron is a must read, charting Byron's ten month voyage through the Middle East in the 1930's.
The emergence of Mountune as a kind of AMG-for-the-masses is one of the feel-good automotive tales of recent years.

The Essex-based concern is one of those great British success stories that few have heard of, but are the brains behind countless below-the-radar engineering projects for all sorts of race teams and manufacturers, both big and small. Now, thanks to the openly publicised partnership with Ford, Mountune is getting the exposure – and plaudits - it deserves.

Regular visitors to DR will know that we were massively impressed with Mountune's Focus ST, for the performance kit elevated this likeable, capable hot hatch to genuine giant-killer status. We also fell in love with the more extensive body of work – mapping, cams, exhaust, chassis and seats - that went into the Fiesta ST 185, for it turned a fairly average small hot hatch into a fast, feisty and utterly addictive machine.