general
---
I am not sure if there is anything more annoying than when someone asks a question in the third person and proceeds to answer it. For instance:
Do I think I am extraordinarily kick ass at Chutes and Ladders? Yes I do.
I don't know what makes people think they can dictate both sides of a conversation. What is more irritating is that the people who utilize this technique also tend to weave a "guy" or "bud" or "fella" into these already painful conversations. And furthermore, they always ask questions that they know the answer to. You never hear someone ask:
If I were to kick ass at Chutes and Ladders in a forest in Northern Quebec and everyone around was looking at the Sasquatch that was driving off in our Honda Element while wearing a Nintendo Powerglove and smoking a pack of Parliaments, did I actually kick ass?
I could probably issue an exception for third person questions that actually yield thought provoking answers. However for the rest, I give one use as a warning, all others will receive a neck punch. You are all on notice.
What's the healthiest city in America? It appears to be Burlington, Vt.

Vermont's largest city is tops among U.S. metropolitan areas by having the largest proportion of people — 92 percent — who say they are in good or great health.

It's also among the best in exercise and among the lowest in obesity, diabetes and other measures of ill health, according to a recent report from the U.S. Centers for Disease Control and Prevention.
You can read the rest of the AP article here: Burlington is Healthiest City
source: Hamburger America
any takers on a trip to butte, mt? someone out there is serving a "nutburger" that is reportedly "like eating sundae topping on a burger."
Matt's Place Drive-In
2339 Placer Street, Butte MT 59701
406-782-8049
Worst "Healthy" Drink
Glaceau VitaminWater (any flavor; 20 oz bottle)
130 calories
33 grams sugar
Vitamins and water might sound like the ultimate nutritional tag team, but what the label doesn't say is that a bottle of this stuff carries nearly as much sugar and calories as a can of Coke. Makes sense, though, since this so-called functional beverage is produced by our often-sugar-crazy friends at The Coca-Cola Company.
Damn you!!! DAMN YOU ALL TO HEEEEEEEEEELLLLLLLLL!!!
While driving through Middlebury the other day, I regretfully broke my fourteen year boycott of the Golden Arches. Although my morals were about to be compromised, there was no turning back...My intentions were clear as I walked through this dreadful establishment's sinful ingress. I passed the threshold, took a deep breath, walked into the restroom, and eagerly released my bowels; hey, when you gotta go, you gotta go!!! I guess there is ONE positive attribute to the McDonald's franchise...
March was badcolonies.org biggest month ever for traffic, including the rally entry timeframe. April is well on track to overtake March. Special thanks to the visitors and especially Darwins Preacher and Ghoti_n_Czopc for bringing some fresh content to drive the traffic. All of this would be really great if there was some financial output, but alas it has always been for the fun of creation, sharing and a wee bit of interaction.
ciao ciao S Nathaniel
chalk drawings from Julian Beever. Incredible!
Julian Beever is an English artist who's famous for his art on the pavement of England, France, Germany, USA, Australia and Belgium. Beever gives to his drawings an amazing 3D illusion! Remember, as you view them....... these are all done on level walkways!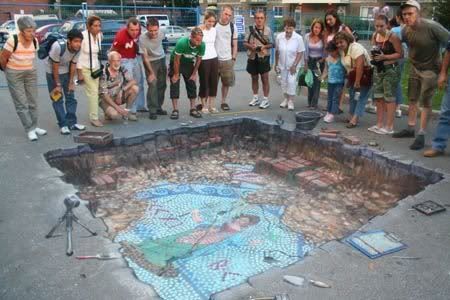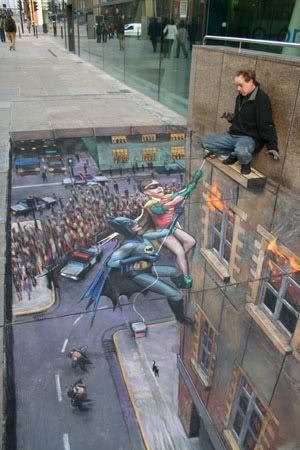 These people seem very cheesy.......but they are onto a great idea!
Have you heard about the purple bracelet people?
http://www.acomplaintfreeworld.org/howitworks.html
"Begin to wear the bracelet, on either wrist.
When you catch yourself complaining, gossiping or criticizing (it's ok, everyone does) move the bracelet to the other arm and begin again.
If you hear someone else who is wearing a bracelet complain, you may point out their need to switch the bracelet to the other arm; BUT if you're going to do this, you must move your bracelet first!
Stay with it. It may take many months but when you reach 21 days you will find that your entire life is happier, more loving and more enjoyable."
"Complaining is not to be confused with informing someone of a mistake or deficiency so that it can be put right. And to refrain from complaining doesn't necessarily mean putting up with bad quality or behavior. There is no ego in telling the waiter your soup is cold and needs to be heated up—if you stick to the facts, which are always neutral. 'How dare you serve me cold soup…?' That's complaining."
—Eckhart Tolle, "A New Earth"
a dilbert appeared in my little workspace. clearly dilbert is the genius responsible for my lot in wonderland this the past year. man, this cartoon can be depressing. cheers to the sales people. and thanks for all the fish.
i have got to get out of this business...