dominic's blog
---
So there we were bombing across Siberia. I could be a little off, but I think we had about 36 hours to drive 1000k to get out of the country. Doesn't sound like much, but consider that our daily average was only around 300k. I'd been in high spirits since being told by the Benz mechanic, "You are like Russian." Though they would never dream of driving a car with a hand clutch they were obviously quite impressed with our handiwork.
Somewhere along the way the roads went to crap, which really shouldn't be much of a surprise by now. 50 mile stretches of dirt roads with massive potholes everywhere became more frequent. It had rained the night before and many potholes were partially filled with water. During one of our leg stretching stops Seth commented that he'd considered driving into a pothole(yes, an entire car will fit in one) just to get some mud on the Fiesta. I chuckled as I'd had the same thought earlier. Later in the day I exercised a little poor judgement and swerved to splash up a little Siberian mud. We were going a little to fast and it was deeper than I'd thought. Our cargo flew all over the place; a cacophany of pots, pans, and jerry cans. Vaughn didn't know I'd done it on purpose andwas visibly irritated. We came out the other side with the Seat sputtering. We made it a few more yards and came to a halt. The Fiesta pulled up behind after following us through the mud. I tried to start the Seat and she just wouldn't go. After a few moments the engine did catch and I revved it right up for maybe 5 seconds and it died as soon as I took my foot off the gas. Clearly something was amiss and it was time to get out the tools.
This is where the Seat died - note the unfortunate lack of fresh mud despite my efforts
Fiddling around for a little bit the engine reeked of gasoline we reasoned that we just weren't getting spark anymore. A German couple in an old Lada SUV pulled up and cametothe same conclusion. So off came the distributor cap and clearly the contacts were shot. Fried even. We tried fitting the Lada distributor on to little avail. This really should've made us think of other possibilities, but we were exhausted and under the gun. The Germans told us that the next garage was 70k up the road and recommended we tow it there. We shook hands, they hopped in their car, and we went back under the hood.

Our main plan of attack, precious hours slipping away, was to rebuild the contacts out of any bits of metal we could bend and glue together. With the fork from my mess kit I created a new contact and got the engine to catch a few times. Strangely though, exhaust gases came puffing out of the carb. Maybe that means something, maybe not. We probably should have started to look elsewhere, but to hear the engine fire a few times with my fork doing the work really was something. We really thought we could get it going. I started to make the fork fix permanent with epoxy, and Seth wandered off to mother nature's call.
With nothing to do but wait for the epoxy to dry I began to pack up the tools and things. I've been a field engineer for 5 years now, and I know that's bad mojo. Never pack up before a machine's running. Seth (former field engineer) came out of the woods, saw the area tidied up and immediately asked, "Why isn't it running yet?" I put the part it in and gave it a crank. Nothing. Guess I may have jinxed it after all.
We'd been several hours now on the side of the road. Shadows were quickly growing longer now. We three huddled for a discussion of what to do. Vaughn reasoned we could tinker until 8 pm and just make it to the border by 4pm the next day. But clearly there was other work to be done in the event we'd have to leave the car. Seth got back under the hood while Vaughn and I readied the car for ditching.
Mongol Rally stickers, Bad Colonies references, telephone numbers of ralliers, embassies and other friends, the photo of my grandmother that has fascinated people the whole trip through, anything that mentioned a website or a name, all of it was removed. Fear not faithful supporters, you're identities are safe with us. No one will ever find you.
Off to the cemetary
8 o'clock arrived, the only sound from the Seat's engine was of a dying battery from ceasless cranking. She never fired again. The Fiesta started towing. A couple of miles up the road we found an off shoot that was shielded from view by trees and large mounds of dirt. We pushed the Seat to her final position. I popped of the VIN plate and utterly destroyed the chassis number with a rubber mallet and a prybar. The engine number would've required partial disassembly to mutilate and we hadn't the time. Oh well, it was Siberia, and a fairly unpopulated part of it at that. Vaughn pulled the license plates and Seth set up a scarecrow of sorts to deter any lookie-loos using the Chair-in-a-bag and some of Patrick's dirty left behind clothes. We posed for a quick photo, piled into the Fiesta, and motored off in desparate need of smooth roads and no vehicular hassles of any kind. Fat chance of that.

Seat Marbella 8.20.2006 R.I.P.
Guess I'll be celebrating two anniversaries on that day from here on out

weep weep at the sappy end of Seat montage
Best of luck to anyone who lays claim to the Seat. She'll be a tricky beast to drive. It took Vaughn and I 1,500 miles to work out the feel of the clutch and the communication necessary to drive in any traffic situation. In the end it's disappointing to have put so much effort into keeping that car on the road only to leave it behind. With more time or on a different route, the Seat may have made it all the way. Then again, a one liter car isn't supposed to be able to make it. Which was the whole point of the rally in the first place. We've had opportunity to savor both the bitter and the sweet.
The drive across Siberia may be the only time I've ever made a decision based purely on time and money...and threat of imprisonment. I think we chose the riskiest of the options at hand after parting with Patrick. The urgent look on the Russian border guard's face when we rolled up behind a line of traffic 45 minutes before closing time confirms it. But that's another story.
dominic
We rolled into Bishkek in the evening and found the center of town easily enough. In search of the checkpoint bar, a place called Stariy Edgar's, we headed for Paniflov Square. Fiesta in the lead we blew right by a "Do Not Enter" sign. I blindly followed. No cars and many pedestrians, we were pulled over in short order.
Patrick and I handed over our Int'l Driving Permits (best $10 any of us ever spent) to the officer and started playing the game. Our abilities to dumbfound authorities with idiocy were ever increasing. Everytime the policeman tried to explain our infraction we kind of stared blankly, pointed to a piece of paper with an address on it, and asked directions. Eventually we wore him down. Free to go, licenses in hand, no bribes paid.
The location of the bar still a mystery we parked the cars and continued on foot. Vaughn and I would mind the cars while Seth and Patrick went out in search. After maybe half an hour I got restless and took a walk. Within minutes I spotted the General Lee driving down the same closed road we had and ran out to stop them. Barry and Charlie went in search of the Xanadu Casino, one of the places their sponsor, Casino Life Magazine, had asked them to look in on.
Tigglywinks was taking an awfully long time returning. Bored again I asked the doorman of a nearby bar if he'd heard of Edgar's. Surprisingly, he gave me perfect directions. Just a short walk away, cleverly hidden in the park…and underground. Tricky Mongol Rally.
The Dukes had even better success. The casino offered to feed us all and let us park the cars in the lot over night. Without hesitation we accepted and assumed we could get directions to a hotel from there. One beer in and having barely ordered food there appear on the table 3 room keys. "Sorry, only King Deluxes available, so I hope that's alright." The Hyatt Regency adjoins the casino. Three $320 per night rooms on the house. And you should've seen the palatial bathrooms. A sight for sore, road wearied traveller's eyes. Really can't say thanks enough.
All agreed we should probably tidy up and drop a little cash at the casino. It's only fair. After food and showers I don't think a single person made it downstairs. Sorry about that.
Seat and Fiesta front and center before the Hyatt. We got more looks than any Mercedes or Audi in the lot.
The next morning we checked out and planned to take a drive up into the mountains while waiting for the Fiat boys to show up. Besides, the cars had piqued the curiosity of staff and guests for long enough. As we were packing up a woman came rushing out of the Hyatt asking if we were Mongol Ralliers. Turns out she was from the States, her husband was working in Kyrgyzstan, and she'd heard about the rally on NPR and has been following it's progress since. She knew the routes all led through Bishkek and was hoping she'd run across some teams. Then she found out we were Americans. We'd have been fools not to take them up on their offer for dinner and drinks. We settled into the Hotel Dostuk a few blocks away and headed out to meet our new friend. Let's call her Ava (Gardner).
Ava has a taste for vodka martinis and claims that the Metro is the only bar in that part of the world where you can get a decent martini. The wait staff has been under her tutelage on the subject for quite some time. Round after round arrive and we're all sharing stories. She wants to know all about the rally and lets on that she's trying to convince her husband, Frank (Sinatra), to enter with her next year. Any comments we can make to sway his decision that way would be much appreciated. At some point the martinis stopped coming and Coronas started appearing on the table. Corona with lemon as limes just don't exist in Kyrgyzstan.
Frank showed up and we were given a tour of the back half of the bar. It used to be an old children's theatre; a cavernous room with a large dusty chandelier hanging in the middle. Last Halloween Ava used the room to host Bishkek's first haunted house. To hear her tell stories of it I'm sure everyone had a good time.
We part ways with Frank and Ava for the night with plans to meet them the next day. They'd invited us to stay a night at their home. They leave us with their driver who will take us out and about for the rest of the night. The driver would stick with us and make sure everyone got home safely. Apparently there had been muggings recently.
The next day some of the crew was looking a little worse for the wear. But we all made it to the Hyatt eventually. Late afternoon the convoy fully reunited when James, Andy, and the Fiat rolled into town. The driver led us out to the house minus Vaughn and the Seat. We'd left him in the Hyatt lobby to wait for Ava earlier in the day looking quite ashen. When we came back he was gone. Reportedly off to stay in some other American's nearby apartment to recuperate. No note, phone number, or even a name. But it's Bishkek afterall. The city had been treating us well so far, so it must be looking out for Vaughn now too.
We dropped the cars at the house and piled into the driver's big black Audi and made for the mountains. Half an hour outside of town we pull over in this mountain valley. A collection of small buildings with a river rushing right down the middle. I see Frank come walking over. It's a restaurant/resort called the 12 Chimneys where we'd be having dinner. Everything is outdoors. Each table has its own fireplace capable of emitting so many Btu Charlie (of the Dukes) had to shield himself with his jacket to avoid being singed through the whole meal.
The 12 Chimneys Restaurant in the mountains above Bishkek lot.
With bellies full of shashlik we headed back down to Frank and Ava's. Behold Vaughn was there sleeping on the living room floor. Tomorrow there would be breakfast. The driver would take the Dukes to a garage in the morning to repair their suspension. The rest of us could just relax until it was time to leave.
Car repairs always take longer than expected. 2pm rolled around and the Dukes were off to the Auto-Bazaar once again for more parts. It was becoming clear that we may not be leaving as soon as we'd thought. Ava is a sharp, generous and outgoing woman. Before we knew it we were accepting her offer to stay another night. The General returned with a new look. Lada suspension springs fitted all round raised the car up off the ground an extra couple of inches. It looked suited for any abuse. Most headed off for the Hyatt pool. Seth and I headed to Edgar's in search of ralliers. We broke out the Kvas, stopped by Edgar's and found not a single rallier.
Over another meal of shashlik at an out of the way cafe Frank taught us a few words in Russian that really shouldn't be spoken. Apparently "hooey" does not mean the same in English as it does in Russian. It pricked the ears of other restaurant patrons and they started giving us sidelong glances.
Ava decided to join us for our last night on the town. We headed to the Butterfly bar that had been so helpful our first night. It was early yet and the place was mostly empty. Red Bull helped to combat that tired-full food coma feeling. There was a pool table upstairs and I challenged Seth to a game. I think we finally got back to Frank and Ava's around 5 in the morning. Breakfast would be at 8 and we would all head out to the main bazaar on the outskirts of town to have a look around. From there we would be on our way...back to Kazakhstan, bound for Almaty.
Back to Kazakhstan. Thank you, Bishkek. We had a ball.
It's nearly impossible to convey the impression Bishkek left. Coming out of the Kazakh desert to find mountains, greenery, a city seemingly filled with friendly people may have skewed the impression somewhat. But does that matter? We've met some incredibly generous, open-hearted people along the way. Frank and Ava definitely stand out among the more memorable ones.
after spending around 8 hours at one ukraine border only to be denied entry by customs for lack of proper paperwork for our vehicles, we returned to poland yesterday evening. while in line to re-enter poland we ran across another team, the last and the ludicrous, who were also denied. the brits must have been more pathetic in their pleas as they were sent packing to poland directly to the front of the line and with a free bottle of vodka condolences from the ukraine customs dept.
we schemed for a bit, had something to eat and tried a second border crossing. a much smaller point of entry, it appeared on one map and not on another. we nearly plowed through through the barrier in the the half-light at high speed. needless to say, they didn't let us out of poland there.
more scheming led to a grab bag of "official looking" paperwork on our part hoping to dazzle and confuse at a third point of entry in the wee hours of the night. anything with some sort of stamp and/or signature went into the pile regardless of what it actually proved. we ended up running into several other teams trying to cross this time. having turned away several persistent rallyers throughout the day, but faced with a half dozen cars in line together, none willing to be turned away, the ukraine eventually relented.
since the border we've been caravaning with two other cars. western ukraine in the middle of the night, in the fog, with rumors of police harassment from other successful teams was a very surreal experience. after managing only 30 kilometers in about 2 hours on the worst roads any of us have driven we called it quits for the night in L'Viv in a gas station parking lot. we woke 4 hours later when the attendant conveyed it was time to leave.
we've just arrived in Kiev and plan to hit the official checkpoint (bar) shortly.
at the moment our vehicle documents don't quite fit with ukraine law. we haven't been pulled of\ver yet, but many other teams have. jen is trying to fly out tomorrow returning to the States and we'll meet patrick here in Kiev. which gives us a little time to call up the UK equivalent of the DMV and lay on a thick sob story to see if we can get what we need. we've been told repeatedly that the current paperwork will give us the same problems with Russian and former Soviet authorities.
assuredly more tomorrow. at the moment it's time to relax. and hear stories from other rallyers. ran into one team already from Scotland that ran the Ukraine border after being denied. just shut their lights off and drove through when they were suppsed to be returning to Poland.
dominic
ps. Seat electrical demons have been exorcised. my mistake to reconnect a ground wire - thanks to team nervous breakdown for their help. they did the same thing a few weeks ago and knew exactly what the problem was. think my days in the car stereo business are over with a 50% success rate. suspect Seat engine stalling due to low idle - happens most often at night when when lights are drawing things down. don't be surprised if the Seat is referred to as Tyrone in future posts. fiesta running like a champ. did rotate two tires in prague. heavy wear on left front was giving a bit of a wobble at speed.
The car's possessed I say. Lost the low speed wipers somewhere in London. Couldn't turn the wipers off at all by Luxembourg. Right front headlight isn't working. Rear turn signals stopped blinking in Germany. Just solid light. And a few hours out of Prague the Marbella picked up a new annoying trait.
After driving at highway speed for awhile, the car dies when decelerating for exit ramps. Seems to happen when both clutch and brake are depressed while still at speed. Hoping to find a Haynes manual from one of the other teams before everyone goes thier separate ways. See if we can't scribble down a few wiring diagrams for troubleshooting.
But other than that she drives great. Seems there may be a reason I fried the car stereo a few days ago.
And for those interested, we may be the only American team that made it to Prague. Team Newyorkistan burned up their clutch before getting out of London. Haven't seen either of the Seattle teams. And the guys from MIT went a different route.
Rumor that Team Aspiritus (Pix and Miles) had a crankshaft problem in London and are currently broken down again in Brussels. Also rumored that off 200 rally spots, about 150-170 turned up at Hyde Park for the launch and about 70 made it to Prague last night. Not sure how reliable that information is though.
We're off to Krakow or beyond.
dominic
ps. It's so hot, Absinthe was a bad choice.
en arrived yesterday and is somewhere in London. We have an address to meet up with her but no real confidence in our ability to find it. Seth's plane was supposed to land at Gatwick about an hour ago. Imagine he's still tied up in customs.
Vaughn and I and the two cars are still in Taunton, roughly 3 hours drive away. We're awaiting delivery of updated, and hopefully correct, insurance documents. Then the test begins. Can we find our way to the hotel? Will the radiators hold? Will the wheels fall off? Will i go insane in London traffic without a radio ?
As yet I haven't driven either of these right-hand-drive atuomibiles on the road yet. And I wonder how well I'll be able to remember to drive on the left side of the road.
Note: The Seat's electrical system has beaten me thus far. I thought I had a radio wired up yesterday only to watch smoke pour out of it when I turned it on. Decided to pick up a small fire extinguisher during a later trip to the parts store just in case.
dominic
Picnic and barbeque season is upon us. Feel like mixing it up a little? Creating a scene? Maybe just coating a friend in sticky syrup?
Try out a little mischief proposed by our friends at wired. And please, if you do give it go let us know how it went. Stories are nice. Pics and vids are better.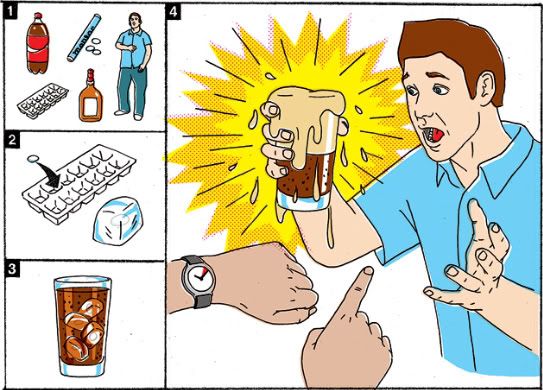 Elliott Burford
Spam
(2009 – present)

An ongoing project illustrating the titles of emails found in your spam/junk box.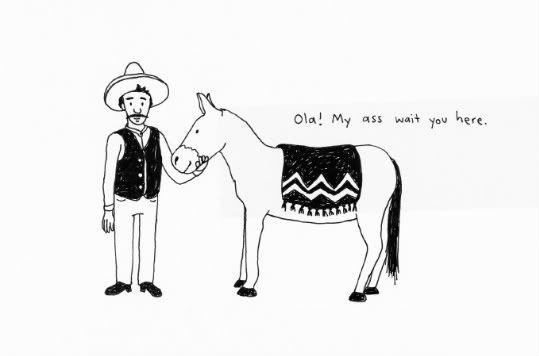 doc louis is walking the dog. feeling the flow. workin' it...