---
From the Hexham Courant: www.hexhamcourant.co.uk
INDIAN JOURNEY FOR FRESH WATER
Published at 09:10, Monday, 20 September 2010
ONE of the first warnings given by tourist guides to visitors to many Eastern countries is – don't ride in the tuk-tuks!
These are the wildly unstable auto rickshaw taxis which buzz around cities of India and beyond like angry wasps.
But the inherent dangers have failed to dissuade Corbridge's Jhared Bouri and three of his mates from driving one of the contraptions 5,000km down the length of the sub-continent.
Along with former school friends from Newcastle's Royal Grammar School James Rickwood-Dodsworth, Andrew Wallace and Hugh Morgan, Jared will be setting off from Jaisalmer in the far North West of India hoping to reach Cochin in the far South around two weeks and 5000km later.
They will be aboard a 150cc, 7hp auto-rickshaw, and will have to battle through jungle, barren plains and mountain ranges, navigate through some of the world's largest and most congested cities and of course try to avoid an accident on the world's most dangerous road network.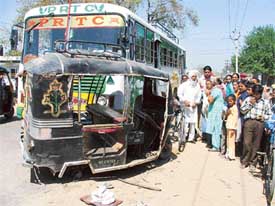 Needless to say, it's all being done in the name of charity.
They are competing in the Rickshaw Run, a charity rally run by The Adventurists (www.rickshawrun.com) in aid of Frank Water Projects.
Each team must raise at least £1,000 to guarantee their entry on the rally, and Jared and his friends are hoping to raise at least double that.
All funds raised will be donated to FRANK – no other party takes a cut.
FRANK is a small charity that funds sustainable, safe, clean drinking water projects in India by installing village filtration facilities.
Since 2005 FRANK has funded the installation of over 30 projects in Andhra Pradesh, India benefiting over 210,000 people.
James, who lives in Ryton, said: "We have been writing to local companies and charities for sponsorship as well as badgering friends and acquaintances.
"However, we would also love other people to sponsor us."
For further information, or to support the boys, view their website at www.justgiving.com/2011rickshawrun
They are also keeping a blog at www.badcolonies.org
Check out the full article at sevenyearswinter.com
In 2006, Andrew Wallace and James Rickwood-Dodsworth drove 8000 miles from London to Mongolia, across five mountain ranges and two deserts, in a less than reliable Fiat Cinquecento. By doing so, they raised over £2000 for the Christina Noble Children's Foundation and Send a Cow.
4 years later and they are back!!! This time competing in the Rickshaw Run Winter 2011. A 5000km trek the length of India from Jaisalmer to Cochin.....
..... In a 150cc RICKSHAW!!!
The trip should last about two weeks as we battle through some of the most difficult terrain Asia has to offer, as well as the inevitable breakdowns and bouts of illness. There are no support vehicles. The Rickshaw Run is therefore the ultimate challenge of man and unsuitably unstable machine Rickshaw Run Website
We are aiming to raise over £2000 for Frank Water Projects. FRANK is a small charity that funds sustainable, safe, clean drinking water projects in India by installing village filtration facilities. Projects are funded by FRANK but community owned and run.
Since 2005 FRANK has funded the installation of over 30 projects in Andhra Pradesh, India benefiting over 210,000 people. FRANK website
We are looking for donations of any amount to help us to raise as much money as possible. ALL monies will be donated to Frank Water Projects. Donations can be made via our website Just Giving 2011 Rickshaw Run
PLEASE HELP US TO PROVIDE THE PEOPLE OF INDIA WITH THE BASIC HUMAN RIGHT OF CLEAN, SAFE, DRINKING WATER